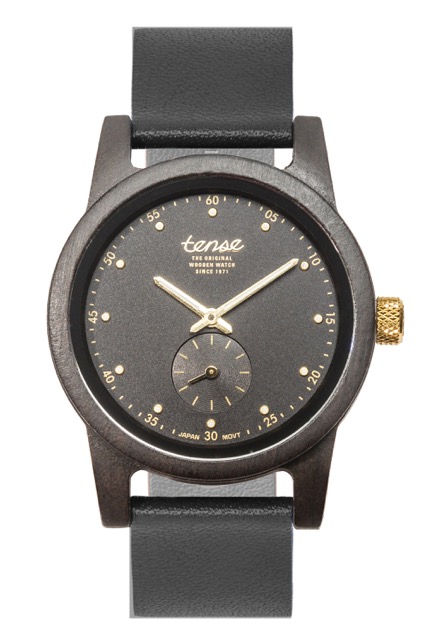 Leather Hampton
This unisex watch with a wood case and leather strap shows hour, minute, and second markers on a round dial. The Leather Hampton is made from genuine Italian leather and 100% recycled or reclaimed wood. All tense watch pieces are hypoallergenic, adjustable in size, and made in Canada with Miyota Watch Movements from Japan.
WOOD TYPE
African Sandalwood is a small shrubby African tree that yields a hard wood and is found growing in woodlands on acidic soil where the species typically dominates the surrounding area. While the tree features distinctive reddish flowers, the wood itself is medium and dark brown and releases a pleasant smell. Typically used in the manufacturing of furniture and curios, the wood is an excellent carving medium and perfect for making our wooden watches.
COLOR - Dark Sandalwood/Black
STRAP - Black
CASE HEIGHT- 51mm
CASE THICKNESS - 11mm
CASE WIDTH - 40mm
CLASP - Stainless Steel
BAND WIDTH - 20mm
2 Year Warranty
WARRANTY
Hours: 9am – 5pm PST
Email: service@tensewatch.com
Tel: 604-525-5633 or 604-474-0422
Fax: 604-474-0662
Tense Wooden Watches provides a 2-year limited warranty on manufacturer's defects present at the time of purchase. If your watch needs servicing or you have a warranty issue, please contact us to see what we can do for you.
Please note, we will only accept items sent to us if we have authorized the servicing or warranty return. You must fill out our Service Repair Form and have your request approved before mailing your watch to us.
After the warranty or repair has been received by Tense, we will attempt to contact the customer 3 times. If the customer can not be reached, we will keep the watch that was returned for warranty or repair for 1 year. After 1 year, Tense is no longer responsible for the returned watch. Customers can follow-up with their warranty or repair by contacting us at 1-604-525-5633 or service@tensewatch.com.
Please Watch Registration to have it be eligible for warranty